The process of buying tickets to events has evolved and buyers regularly face the threat of fraud, cons and rip-offs. Scalpers and scammers have been having a field day.
Ticket scalping often causes customers to show up to a venue unsure if their tickets will work, which is not a great experience to endure. When purchasing from a scalper, not only are you chancing if ticket is real, but if it is fake, you will more than likely not get your money back.
Fake tickets are another big problem. Thanks to the digital age, places like Craigslist and other forum-based sites are often populated with counterfeit tickets. While Craigslist is a great resource for buying many items, buyers should be aware that there are also many scams. The tickets sold from scammers on sites like Craigslist can look deceptively real, right up until the buyer tries to use them at an event. Of course, the ultimate fake tickets are the ones that don't even exist, except as props in listings created to con buyers out of their money.
Sites publish fraud guides and tips on how to avoid ticket scams, but the problem still plagues many people every day. There are self-protective measures and security protocols you may follow, but fraudulent transactions remain pervasive on the internet.
This much is clear: the public needs a digital ticket source they can trust to deliver valid, fairly-priced tickets.
TicketOffices.com is a company that is reinventing the digital ticket office. TicketOffices.com has created a ticket resale marketplace where buyers get the peace of mind of a 100% Guarantee eliminating much of the headache around ticket buying. Tickets are 100% guaranteed to be valid. Delivery is 100% guaranteed to be on time. And if an event is canceled, a full refund will be issued. Scalpers and scammers just can't compete!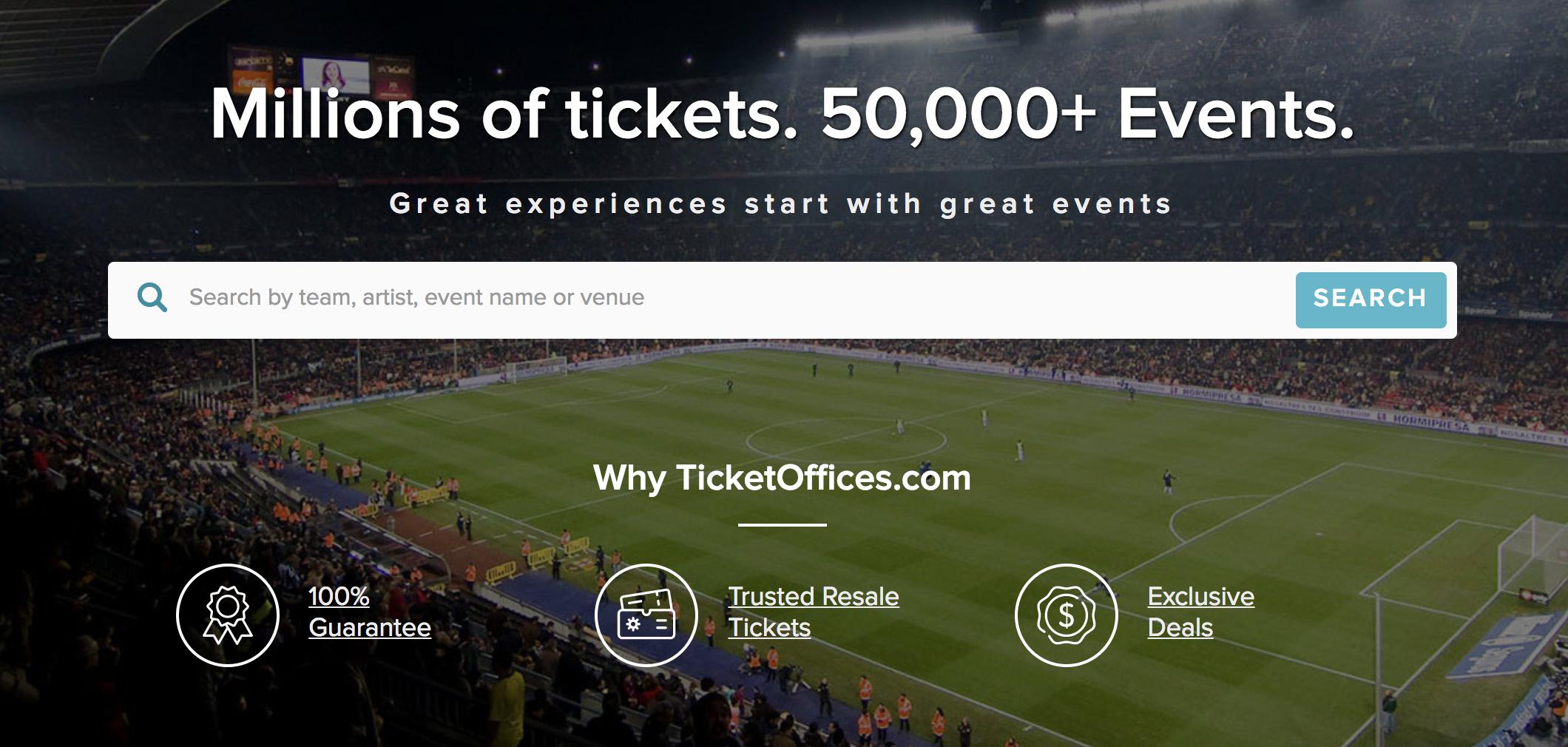 But TicketOffices.com is more than just a spot to snag concert tickets. It's a hub for tickets to events of all kinds: The Theatre, Pro Games, College Games, Golf Tournaments, Races, Championships and more. In addition, TicketOffices.com also offers exclusive deals on pricing that cannot be found anywhere else. The company says some of the exclusive prices offered include the 2018 Super Bowl, 2018 Masters Golf Tournament, and a variety of concerts such as Katy Perry and Lady Gaga.

And coming soon, TicketOffices.com is teasing to a new kind of ticket inventory for experiential events. TicketOffices.com says, "In 2018, customers can look forward to expanded offerings. These new tickets will be for events of all kinds, beyond sports games and concerts. We are excited to broaden our selection to our customers, making us a one-stop shop for all ticket needs."
This innovative concept is a natural outgrowth of the importance the company places on customer reviews. And thanks to the integration of easy payment options like Apple Pay, the site is known by its customers for being easy to navigate and low-stress, which is just what they asked for in their reviews.
The next time you set out to find tickets for a big game, for your favorite band, or that must-see play keep TicketOffices.com in mind.
To learn more about ticketoffices.com visit:
Website- https://www.ticketoffices.com
Blog- https://blog.ticketoffices.com
Twitter- https://twitter.com/ticketoffices
Facebook- https://www.facebook.com/ticketoffices
Instagram- https://www.instagram.com/ticketoffices